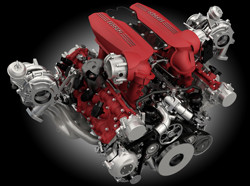 Le
moteur V8 bi-turbo Ferrari
remporte le prix du
« Moteur de l'Année »
pour la quatrième année consécutive en 2019, de
« Meilleur moteur de plus de 650 ch »
et de
« Meilleur moteur dans la catégorie Performance »
.
Le moteur V8 bi-turbo 3.9 litres de
720 ch
Ferrari propulse la 488 Pista, la 488 GTB et la 488 Spider.
Le V8 bi-turbo Ferrari embarque une série de solutions techniques. Le V8 Ferrari turbocompressé se distingue par l'absence de retard du turbo et la distribution progressive du couple sur toute la plage de régime.
Créés en 1999 sous l'impulsion du titre britannique Engine Technology International Magazine, les International Engine of the Year Awards décernent chaque année des prix aux meilleurs moteurs.
Les prix sont attribués par un panel international d'experts composé de 70 journalistes automobiles selon les critères suivants : performances, capacité à délivrer la puissance et manière de la délivrer, sonorité, agrément de conduite et efficience.
Le classement général du "Moteur International de l'Année 2019":
Ferrari 3.9 litres biturbo V8 (Ferrari 488 GTB, 488 Spider, 488 Pista): 425 points
Jaguar Land Rover full-electric powertrain (Jaguar I-Pace): 328 points
Mercedes-AMG 4 litres biturbo V8 (Mercedes-AMG GT, GT S, GT C, GT R, S, C, E, G, GLC, Maybach S, Aston Martin Vantage, DB11): 280 points
Porsche 2.5 litres turbo (Porsche 718 Boxster S, 718 Cayman S): 188 points
Audi 2 litres four-cylinder TFSI (Audi TT, TT S, S1, S3, A3, A4, A5, A6, Q2, Q3, Q5; SEAT León Cupra, Alhambra, Ateca, Cupra Ateca; Škoda Superb, Kodiaq; Volkswagen Golf GTi, Polo GTi, T-Roc, Atlas, Passat, Arteon, CC, Beetle, Tiguan, Sharan) : 184 points
Ford 1.0 litre trois cylindres turbo (Ford Fiesta, Focus, C-Max, Grand C-Max, Mondeo, EcoSport): 154 points
Ferrari 3.9 litres biturbo V8 (Ferrari Portofino, GTC4 Lusso T): 66 points
Le palmarès par catégorie du "Moteur International de l'Année 2019":
Nouveau moteur de l'année:
Jaguar Land Rover full-electric powertrain (Jaguar I-Pace): 281 points
Hyundai-Kia full-electric powertrain (Hyundai Kona, Kia Soul EV): 174 points
Audi / Lamborghini 4 litres V8 (Lamborghini Urus): 170 points
Nissan / Infiniti 2 litres VC-Turbo (Infiniti QX50): 164 points
Mercedes-AMG 2 litres turbo (Mercedes-AMG A35): 151 points
Ford 1.5 litre trois cylindres turbo (Ford Fiesta ST): 137 points
Moteur hybride de l'année:
BMW 1.5 litre trois cylindres electric-gasoline hybrid (BMW i8): 233 points
Porsche 4 litres turbo V8 electric-gasoline hybrid (Porsche Panamera Turbo S E-Hybrid): 138 points
Toyota / Lexus 1.8 litre electric-gasoline hybrid (Toyota CH-R, Prius, Lexus CT, Daihatsu Mebius): 122 points
Volvo 2 litres turbocharger supercharger electric-gasoline hybrid (Volvo XC90, S90, V90, XC60): 109 points
Toyota / Lexus 2.5 litres electric-gasoline hybrid (Toyota Rav4, Lexus ES): 104 points
Porsche 3 litres electric-gasoline hybrid (Porsche Panamera Plug-In, Cayenne Plug-In, Bentley Bentayga Plug-In, Audi A8 Plug-In): 100 points
Moteur le plus performant de l'année:
Ferrari 3.9 litres biturbo V8 (Ferrari 488 GTB, 488 Spider, 488 Pista): 370 points
Ferrari 6.5 litres V12 (Ferrari 812 Superfast): 200 points
Porsche 4 litres boxer (Porsche 911 GT3, 911 R): 164 points
Mercedes-AMG 4 litres biturbo V8 (Mercedes-AMG GT, GT S, GT C, GT R, S, C, E, G, GLC, Maybach S, Aston Martin Vantage, DB11): 97 points
McLaren 4 litres twin-turbo V8 (McLaren 720S): 81 points
Audi 5.2 litres V10 (Audi R8, Lamborghini Huracan): 76 points
Moteur électrique de l'année:
Jaguar Land Rover full-electric powertrain (Jaguar I-Pace): 367 points
Tesla full-electric powertrain (Tesla Model S, Model X, Model 3): 363 points
BMW full-electric powertrain (BMW i3, i3S): 172 points
Hyundai-Kia full-electric powertrain (Hyundai Kona, Kia Soul EV): 148 points
Renault / Nissan full-electric powertrain (Nissan Leaf): 126 points
General Motors full-electric powertrain (Chevrolet Bolt, Opel Ampera-e): 89 points
Moteur de 150 ch de l'année:
Ford 1.0 litre trois cylindres turbo (Ford Fiesta, Focus, C-Max, Grand C-Max, Mondeo, EcoSport): 145 points
BMW 1.5 litre trois cylindres turbo (BMW 1 Series, 2 Series, 2 Active Tourer, 3 Series, X1, Mini One, Cooper, Clubman One, Clubman Cooper, Countryman One, Countryman Cooper): 119 points
PSA Peugeot Citroen 1.2 litre trois cylindres turbo (Peugeot 208, 308, 2008, 3008, 5008, Citroen C3, C4, C4 Cactus, C-Elysée, C4 Picasso, C4 Grand Picasso, DS3, DS4, Opel Crossland X, Grandland X): 104 points
Toyota / Lexus 1.8 litre electric-gasoline hybrid (Toyota CH-R, Prius, Lexus CT, Daihatsu Mebius): 82 points
Volkswagen 1.0 litre trois cylindres turbo (Volkswagen Golf, Up, Up GTI, Polo, T-Roc, T-Cross, Audi A1, A3, Q2, Seat Ibiza, Arona, Toledo, Ateca, Leon, Skoda Fabia, Rapid, Karoq): 81 points
Volkswagen 1.5 litre TSFI Evo (Volkswagen Golf, Arteon, T-Roc, T-Cross, Audi A3, Seat Ibiza, Arona, Skoda Octavia, Karoq): 75 points
Moteur de 150 à 250 ch de l'année:
Audi 2 litres quatre cylindres TFSI (Audi TT, TT S, S1, S3, A3, A4, A5, A6, Q2, Q3, Q5; SEAT León Cupra, Alhambra, Ateca, Cupra Ateca; Škoda Superb, Kodiaq; Volkswagen Golf GTi, Polo GTi, T-Roc, Atlas, Passat, Arteon, CC, Beetle, Tiguan, Sharan): 161 points
BMW 2 litres twin-turbo quatre cylindres (BMW 1 Series, 2 Series, 2 Active Tourer, 3 Series, 4 Series, 5 Series, 6 Series, 7 Series, X1, X2, X3, X4, Z4, Mini Cooper S, Countryman Cooper S, Countryman Cooper JCW, Clubman Cooper S, Clubman Cooper JCW): 149 points
Ford 1.5 litre trois cylindres turbo (Ford Fiesta ST): 111 points
BMW full-electric powertrain (BMW i3, i3S): 78 points
Hyundai-Kia full-electric powertrain (Hyundai Kona, Kia Soul EV): 67 points
PSA Peugeot Citroen 1.2 litre trois cylindres turbo (Peugeot 208, 308, 2008, 3008, 5008, Citroen C3, C4, C4 Cactus, C-Elysée, C4 Picasso, C4 Grand Picasso, DS3, DS4, Opel Crossland X, Grandland X): 52 points
Moteur de 250 à 350 ch de l'année:
Porsche 2.5 litres turbo (Porsche 718 Boxster S, 718 Cayman S): 144 points
BMW 3 litres twin-turbo six cylindres (BMW 1 Series, 2 Series, 3 Series, 4 Series, 5 Series, 6 Series, 7 Series, X3, Z4): 138 points
Audi 2 litres quatre cylindres TFSI (Audi TT, TT S, S1, S3, SQ2, A3, A4, A5, A6, Q2, Q3, Q5, Seat Leon Cupra, Leon Cupra R, Cupra R ST, Alhambra, Ateca, Cupra Ateca, Skoda Octavia RS, Superb, Kodiaq, Volkswagen Golf GTi, Golf R, Golf TCR, Polo GTi, T-Roc, Atlas, Passat, Arteon, CC, Beetle, Tiguan, Sharan): 130 points
Honda 2 litres turbo (Honda Civic Type R, Accord): 118 points
Tesla full-electric powertrain (Tesla Model S, Model X, Model 3): 84 points
Nissan / Infiniti 2 litres VC-Turbo (Infiniti QX50): 82 points
Moteur de 350 à 450 ch de l'année:
Jaguar Land Rover full-electric powertrain (Jaguar I-Pace): 191 points
Porsche 3 litres six cylindres turbo (Porsche 911 Carrera, 911 Carrera 4, 911 Carrera S, 911 Carrera 4S, Carrera GTS, Carrera 4 GTS): 190 points
BMW M 3 litres twin-turbo six cylindres (BMW M M3, M3 Competition, M4, M4 Competition, M4 CSL): 137 points
Mercedes-Benz 3 litres twin-turbo six cylindres 48V ISG (Mercedes-Benz CLS, S-Class, Mercedes-AMG CLS): 121 points
Audi 2.5 litres cinq cylindres turbo (Audi RS3, TT RS, RS Q3): 115 points
BMW 1.5 litre trois cylindres electric-gasoline hybrid (BMW i8): 96 points
Moteur de 450 à 550 ch de l'année:
Mercedes-AMG 4 litres biturbo V8 (Mercedes-AMG GT, GT S, GT C, GT R, S, C, E, G, GLC, Maybach S, Aston Martin Vantage, DB11): 244 points
Porsche 4 litres boxer (Porsche 911 GT3, 911 R): 228 points
BMW M 3 litres twin-turbo six cylindres (BMW M M3, M3 Competition, M4, M4 Competition, M4 CSL): 171 points
Porsche 3.8 litres boxer turbo (Porsche 911 Turbo, 911 Turbo S, GT2 RS): 154 points
McLaren 3.8 litres twin-turbo V8 (McLaren 540C, 570S, 570GT, 600LT): 149 points
Fiat Chrysler 2.9 litres V6 twin-turbo (Alfa Romeo Giulia QV, Stelvio QV): 119 points
Moteur de 550 à 650 ch de l'année:
Ferrari 3.9 litres biturbo V8 (Ferrari Portofino, GTC4 Lusso T): 308 points
Porsche 3.8 litres boxer turbo (Porsche 911 Turbo, 911 Turbo S, GT2 RS): 234 points
Mercedes-AMG 4 litres biturbo V8 (Mercedes-AMG GT, GT S, GT C, GT R, S, C, E, G, GLC, Maybach S, Aston Martin Vantage, DB11): 233 points
Audi 5.2 litres V10 (Audi R8, Lamborghini Huracan): 216 points
BMW M 4.4 litres twin-turbo V8 (BMW M5, M5 Competition) : 127 points
McLaren 3.8 litres twin-turbo V8 (McLaren 540C, 570S, 570GT, 600LT): 87 points

Moteur de plus de 650 ch de l'année:
Ferrari 3.9 litres biturbo V8 (Ferrari 488 GTB, 488 Spider, 488 Pista): 429 points
Ferrari 6.5 litres V12 (Ferrari 812 Superfast) : 262 points
Porsche 3.8 litres boxer turbo (Porsche 911 Turbo, 911 Turbo S, GT2 RS): 179 points
Lamborghini 6.5 litres V12 (Lamborghini Aventador): 146 points
McLaren 4 litres twin-turbo V8 (McLaren 720S): 128 points
Tesla full-electric powertrain (Tesla Model S, Model X, Model 3): 81 points
Source:
http://www.ukipme.com/engineoftheyear/