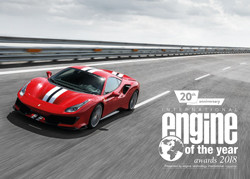 Le
moteur V8 bi-turbo Ferrari
remporte le prix du
« Moteur de l'Année »
pour la troisième année consécutive en 2018, de « Meilleur moteur de 3 à 4 litres » et de « Meilleur moteur dans la catégorie Performance ».
Le moteur
V8 bi-turbo 3.9 litres de 720 ch Ferrari
propulse la 488 Pista, la 488 GTB et la 488 Spider.
Le V8 bi-turbo Ferrari embarque une série de solutions techniques. Le V8 Ferrari turbocompressé se distingue par l'absence de retard du turbo et la distribution progressive du couple sur toute la plage de régime.
Le moteur V8 3.9 litres de 720 ch Ferrari a été désigné « Best of the Best », meilleur moteur parmi tous les vainqueurs de ces 20 dernières années, par les 68 juges internationaux.
« Dans la 488 GTB, le V8 3.9 litres était un exemple presque parfait du moteur turbo hautes performances, plaçant la barre si haute qu'il a écartés les moteurs rivaux »
a déclaré
Dean Slavnich, co-chairman des IEOTY Awards
.
« Mais en le redéveloppant et en l'adaptant pour la 488 Pista, le meilleur moteur du monde est devenu encore meilleur. Sans aucun doute, nous avons devant nous un masterclass de l'engineering de la part de Ferrari. Pas de turbo lag, un son superbe, de vives émotions, un furieux grondement et tellement de puissance; ce V8 Ferrari est une œuvre d'art. »
Le classement général du "Moteur International de l'Année 2018":
Ferrari 3.9-litre biturbo V8 (Ferrari 488 GTB, 488 Spider, 488 Pista): 486 points
Porsche 3-litre six-cylinder turbo (Porsche 911 Carrera, 911 Carrera 4, 911 Carrera S, 911 Carrera 4S, Carrera GTS, Carrera 4 GTS): 198 points
Ferrari 6.5-litre V12 (Ferrari 812 Superfast): 158 points
Tesla full-electric powertrain(Tesla Model S, Model X, Model 3): 149 points
Volkswagen 999cc three-cylinder turbo (Volkswagen Golf, Up, Up GTI, Polo, T-Roc, Audi A1, A3, Q2, Seat Ibiza, Arona, Toledo, Ateca, Leon, Skoda Fabia, Rapid, Karoq): 139 points
BMW 1.5-litre three-cylinder electric-gasoline hybrid (BMW i8): 138 points
Audi 2.5-litre five-cylinder turbo (Audi RS3, TT RS, RS Q3): 110 points
PSA Peugeot Citroen 1.2-litre three-cylinder turbo (Peugeot 208, 308, 2008, 3008, 5008, Citroen C3, C4, C4 Cactus, C-Elysee, C4 Picasso, C4 Grand Picasso, DS3, DS4, Opel Crossland X, Grandland X): 104 points
Porsche 2-litre turbo (Porsche 718 Boxster, 718 Cayman): 68 points
Le palmarès par catégorie du "Moteur International de l'Année 2018":
Nouveau moteur de l'année:
Ferrari 6.5-litre V12 (Ferrari 812 Superfast): 285 points
BMW M 4.4-litre twin-turbo V8 (BMW M5): 216 points
Mercedes-Benz 3-litre twin-turbo six-cylinder 48V ISG (Mercedes-Benz CLS, S-Class): 190 points
Porsche 4-litre turbo V8 electric-gasoline hybrid (Porsche Panamera Turbo S E-Hybrid): 145 points
Audi 2.9-litre six-cylinder TFSI (Audi RS4, RS5): 134 points
McLaren 4-litre twin-turbo V8 (McLaren 720S): 126 points
Moteur vert de l'année:
Tesla full-electric powertrain (Tesla Model S, Model X, Model 3): 241 points
BMW 1.5-litre three-cylinder electric-gasoline hybrid (BMW i8): 103 points
BMW full-electric powertrain (BMW i3, i3S): 97 points
General Motors full-electric powertrain (Chevrolet Bolt, Opel Ampera-e): 97 points
Volvo 2-litre turbocharger supercharger electric-gasoline hybrid (Volvo XC90, S90, V90, XC60): 84 points
Renault / Nissan full-electric powertrain (Nissan Leaf): 77 points

Moteur le plus performant de l'année:
Ferrari 3.9-litre biturbo V8 (Ferrari 488 GTB, 488 Spider, 488 Pista): 476 points
Porsche 4-litre boxer (Porsche 911 GT3, 911 R): 159 points
Ferrari 6.5-litre V12 (Ferrari 812 Superfast): 140 points
Mercedes-AMG 4-litre biturbo V8 (Mercedes-AMG GT, GT S, GT C, GT R, S, C, E, G, GLC, Maybach S, Aston Martin Vantage, DB11): 107 points
Audi 5.2-litre V10 (Audi R8, Lamborghini Huracan): 81 points
BMW M 4.4-litre twin-turbo V8 (BMW M5): 65 points
Moteur électrique de l'année:
Tesla full-electric powertrain (Tesla Model S, Model X, Model 3): 408 points
BMW full-electric powertrain (BMW i3, i3S): 281 points
General Motors full-electric powertrain (Chevrolet Bolt, Opel Ampera-e): 238 points
Renault / Nissan full-electric powertrain (Nissan Leaf): 196 points
Volkswagen full-electric powertrain (Volkswagen e-Golf): 150 points
Hyundai-Kia full-electric powertrain (Hyundai Ioniq): 92 points
Moteur de moins de 1 litre de l'année:
Volkswagen 999cc three-cylinder turbo (Volkswagen Golf, Up, Up GTI, Polo, T-Roc, Audi A1, A3, Q2, Seat Ibiza, Arona, Toledo, Ateca, Leon, Skoda Fabia, Rapid, Karoq): 283 points
Ford 999cc three-cylinder turbo (Ford Fiesta, Focus, C-Max, Grand C-Max, Mondeo, EcoSport): 267 points
BMW 647cc two-cylinder electric-gasoline range-extender (BMW i3, i3S): 127 points
Honda 988cc three-cylinder turbo (Honda Civic): 95 points
Renault / Nissan 898cc three-cylinder turbo (Renault Clio, Captur, Twingo, Dacia Sandero, Logan MCV, Smart Fortwo, Forfour, Nissan Micra): 74 points
General Motors 999cc three-cylinder turbo (Opel Adam, Corsa, Astra): 61 points
Moteur de 1 litre à 1.4 litre de l'année:

PSA Peugeot Citroen 1.2-litre three-cylinder turbo (Peugeot 208, 308, 2008, 3008, 5008, Citroen C3, C4, C4 Cactus, C-Elysee, C4 Picasso, C4 Grand Picasso, DS3, DS4, Opel Crossland X, Grandland X): 295 points
Volkswagen 1.4-litre TFSI ACT (Volkswagen Tiguan, Audi Q2, Seat Leon, Skoda Superb, Kodiaq): 185 points
Volkswagen 1.4-litre TFSI (Volkswagen Golf, Beetle, Tiguan, Touran, Sharan, Passat, Audi A1, A4, Q2, Q3, Seat Ateca, Leon, Toledo, Alhambra, Skoda Kodiaq, Superb): 169 points
Volkswagen 1.4-litre TFSI electric-gasoline hybrid (Volkswagen Golf GTE, Passat GTE, Audi A3 e-tron): 152 points
Toyota 1.2-litre turbo (Toyota Auris, CH-R): 98 points
Fiat Chrysler 1.4-litre MultiAir turbo (Fiat 124 Spider, 500X, Alfa Romeo Mito, Giulietta, Jeep Renegade, Compass): 97 points
Moteur de 1.4 litre à 1.8 litre de l'année:
BMW 1.5-litre three-cylinder electric-gasoline hybrid (BMW i8): 223 points
BMW 1.5-litre three-cylinder turbo (BMW 1 Series, 2 Series, 2 Active Tourer, 3 Series, X1, Mini One, Cooper, Clubman One, Clubman Cooper, Countryman One, Countryman Cooper): 150 points
Volkswagen 1.5-litre TSFI Evo (Volkswagen Golf, Arteon, T-Roc, Audi A3, Seat Ibiza, Arona, Skoda Octavia, Karoq): 148 points
Audi 1.8-litre TFSI (Audi A1, TT, A6, Volkswagen Golf, Passat, Touran, Seat Leon, Skoda Octavia, Superb): 117 points
Honda 1.5-litre turbo (Honda Civic, Accord, Jade, Stepwgn, HR-V): 105 points
Toyota / Lexus 1.8-litre electric-gasoline hybrid (Toyota CH-R, Prius, Lexus CT, Daihatsu Mebius): 88 points
Moteur de 1.8 litre à 2.0 litres de l'année:
Porsche 2-litre turbo (Porsche 718 Boxster, 718 Cayman): 264 points
Mercedes-AMG 2-litre turbo (Mercedes-AMG A, CLA, GLA): 220 points
Honda 2-litre turbo (Honda Civic Type R, Accord): 180 points
Audi 2-litre four-cylinder TFSI (Audi TT, TT S, S1, S3, A3, A4, A5, A6, Q2, Q3, Q5, Seat Leon Cupra, Leon Cupra R, Alhambra, Ateca, Skoda Octavia RS, Superb, Kodiaq, Volkswagen Golf GTi, Golf R, Polo GTi, T-Roc, Atlas, Passat, Arteon, CC, Beetle, Tiguan, Sharan): 149 points
BMW 2-litre twin-turbo four-cylinder (BMW 1 Series, 2 Series, 2 Active Tourer, 3 Series, 4 Series, 5 Series, 6 Series, 7 Series, X1, X2, X3, X4, Mini Cooper S, Countryman Cooper S, Countryman Cooper JCW, Clubman Cooper S, Clubman Cooper JCW): 115 points
Volvo 2-litre turbocharger supercharger four-cylinder (Volvo S60, V60, S90, V60 Polestar, V90, XC60, XC90): 92 points
Moteur de 2 litres à 2.5 litres de l'année:
Audi 2.5-litre five-cylinder turbo (Audi RS3, TT RS, RS Q3): 470 points
Porsche 2.5-litre turbo (Porsche 718 Boxster S, 718 Cayman S, 718 Boxster GTS, 718 Cayman GTS): 352 points
Ford 2.3-litre turbo (Ford Focus RS): 174 points
Toyota / Lexus 2.4-litre electric-gasoline hybrid (Toyota Rav4, Camry, Lexus HS, IS, ES, GS, RC, NX): 106 points
Mercedes-Benz 2.1-litre CDI (Mercedes-Benz A-Class, CLA, B-Class, GLA, C-Class, GLC, GLE, Infiniti Q30, QX30, Q50, Q70): 87 points
Subaru 2.5-litre turbo (Subaru Impreza WRX STi): 75 points
Moteur de 2.5 litres à 3.0 litres de l'année:
Porsche 3-litre six-cylinder turbo (Porsche 911 Carrera, 911 Carrera 4, 911 Carrera S, 911 Carrera 4S, Carrera GTS, Carrera 4 GTS): 370 points
BMW M 3-litre twin-turbo six-cylinder (BMW M M3, M4, M4 Competition, M4 CSL): 185
Fiat Chrysler 2.9-litre V6 twin-turbo (Alfa Romeo Giulia QV, Stelvio QV): 153 points
Mercedes-Benz 3-litre twin-turbo six-cylinder 48V ISG (Mercedes-Benz CLS, S-Class): 139
BMW 3-litre twin-turbo six-cylinder (BMW 1 Series, 2 Series, 3 Series, 4 Series, 5 Series, 6 Series, 7 Series, X3): 107 points
Mercedes-AMG 3-litre V6 twin-turbo (Mercedes-AMG C, E, GLC, GLE, SLC): 91 points
Moteur de 3 litres à 4 litres de l'année:
Ferrari 3.9-litre biturbo V8 (Ferrari 488 GTB, 488 Spider, 488 Pista): 560 points
Mercedes-AMG 4-litre biturbo V8 (Mercedes-AMG GT, GT S, GT C, GT R, S, C, E, G, GLC, Maybach S, Aston Martin Vantage, DB11): 244 points
Porsche 4-litre boxer (Porsche 911 GT3, 911 R): 233 points
Porsche 3.8-litre boxer turbo (Porsche 911 Turbo, 911 Turbo S, GT2 RS): 119 points
McLaren 4-litre twin-turbo V8 (McLaren 720S): 104 points
Audi / Bentley 4-litre TDI tri-turbo V8 (Audi SQ7, Bentley Bentayga): 50 points
Moteur de plus de 4 litres de l'année:
Ferrari 6.5-litre V12(Ferrari 812 Superfast): 346 points
Audi 5.2-litre V10 (Audi R8, Lamborghini Huracan): 238 points
BMW M 4.4-litre twin-turbo V8 (BMW M5): 176 points
Lamborghini 6.5-litre V12 (Lamborghini Aventador): 124 points
Ferrari 6.3-litre V12 (Ferrari GTC4Lusso): 80 points
Jaguar Land Rover 5-litre V8 supercharged (Jaguar XE, F-Type R, F-Type SVR, XJ, Range Rover, Range Rover Sport): 73 points
Source:
http://www.ukipme.com/engineoftheyear/